News & Events
Professor Albert Williams Featured on NBC6 News
Beware when you purchase a used car! Albert Williams, Ph.D., associate professor of finance and economics was featured as a subject matter expert on NBC6 which aired on November 10, 2014. He discussed the subprime lending practices in the auto industry.
Ben Baldanza, Distinguished Lecturer Speaks at NSU's Huizenga Business School

Preston Jones, D.B.A, dean of Huizenga Business School with Ben Baldanza, president and chief executive officer of Spirit Airlines.

Ben Baldanza, president and chief executive officer of Spirit Airlines, spoke recently at NSU's H. Wayne Huizenga School of Business and Entrepreneurship. Baldanza was a featured speaker through the business school's Distinguished Lecture Series, a program which has hosted local, national and international business men and women.

Baldanza joined Spirit Airlines in 2005 as president and chief operating officer. In May, 2006, he was promoted to his current position and also appointed to the board of directors. He has more than twenty-five years of experience in the airline industry.

Baldanza's presentation was a comprehensive study of the company's business model and strategies. The industry lost more than $10 billion in 2008 due to fuel hikes; and it was a time to re-evaluate the company's core principles. Baldanza took the audience through the analysis, discussing factors that dictated changes to the business model. Nearly 80 percent of customers look at price above all else leading Spirit to focus on serving that market segment. Baldanza doesn't like the term, "no-frills." He explained that Spirit believes in "frill control." Where customers can control frills they receive by paying only for the ones they need. The company lost $81 million in 2006 but in 2013, made $177 million.
Faculty Member Presents to Hometown High School and University Students
Albert Williams, Ph.D., associate professor of Finance and Economics at NSU's Huizenga Business School, made two presentations to students at the University of Belize (UB), Punta Gorda Town in Southern Belize. UB is an English-speaking, multi-location institute for higher education, and the national university of the Central American country of Belize.
In his initial presentation, Williams discussed the offensiveness of calling an East Indian living in Southern Belize by the name, 'Coolie.' He encouraged all racial groups living in Southern Belize to treat each other with respect and refrain from calling each other by racial slurs.
Mentorship is the word at national Bizwomen events
More than 200 women gathered recently in the atrium of Nova Southeastern University's Carl DeSantis Building for the opportunity to choose from among 40 women mentors for one-on-one coaching.
NSU Alumni Spotlight: Gail J. Allen, D.B.A.

Gale J. Allen, D.B.A

Gail L. Allen, D. B. A ('02), is deputy chief scientist at the National Aeronautics and Space Administration (NASA), where she serves as adviser to the NASA administrator, provides oversight in the areas of life and microgravity science research, and interfaces with Congress and the Office of the President on science matters. Allen began her NASA career at the Kennedy Space Center as chief of the Materials and Chemistry Branch, where she led the effort in developing ozone-depleting alternatives for precision cleaning of flight and ground hardware. She has also served NASA as the associate director of Technology Programs and Commercialization.

At NASA headquarters, Allen managed the Bioastronautics (human research and life support) Research Program, served as deputy for the Human Systems Research and Technology Program in the Exploration Systems Mission Directorate, and was director of Strategic Integration and Management for Exploration Systems. She currently serves as secretary for the Board of Directors for the Zonta Club of Fairfax County and is a member of Brenau University's Board of Trustees. In 2013, Allen was named Zonta Volunteer of the Year and inducted into the Brenau Hall of Fame. She has also received a NASA Space Act Award for her research in ozone-depleting alternatives, two NASA Exceptional Service Medals, and an Exceptional Performance Award.

Allen credits NSU with her success at NASA. "The education I obtained at NSU has been instrumental throughout my career, especially in these tight budget years," she says. "The ability to explain mission challenges from a business perspective is a unique skill I bring to the table."
Huizenga Business School Honors Three Outstanding Entrepreneurs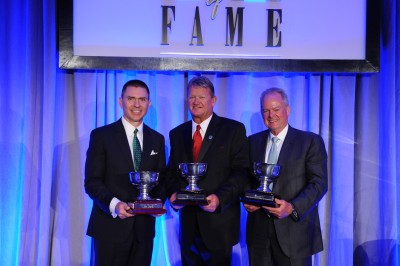 2014 Entrepreneur Hall of Fame Honorees – James Donnelly, Guy Harvey, Ph.D., Manuel D. Medina.
NSU's H. Wayne Huizenga School of Business and Entrepreneurship inducted three South Florida business leaders into its Entrepreneur Hall of Fame on April 30, 2014 at the Signature Grand in Davie, FL. The recognition is the Huizenga Business School's highest honor.
Joining the distinguished ranks of Hall of Fame members are James Donnelly, Founder and Chief Executive Officer, Castle Group; Guy Harvey, Ph.D., Artist, Scientist, Cinematographer, Guy Harvey, Inc., and Guy Harvey Foundation; and Manuel D. Medina, Founding and Managing Partner, Medina Capital.
More than 500 guests attended the "by invitation only," program. The event not only recognized the three honorees but also celebrated its 25th anniversary. The Entrepreneur Hall of Fame was established in 1990 to honor the lifetime achievements of outstanding entrepreneurs who contributed not only to the growth of a phenomenal entrepreneurial business, but have also demonstrated a willingness to contribute time, effort and financial resources to programs and activities that enhance the quality of life in the communities in which we live.
Each of the honorees gave inspirational speeches. Donnelly thanked Hall of Fame members, Charles L. Palmer and Thomas J. Miller for their nomination. He said two things are true of entrepreneurship, "It is a journey with lots of ups and downs, and you don't do it alone." He also stated that knowledge alone was no longer power but that, "Understanding, innovation, and application is the difference today." Having just returned from the Cayman Islands on a six day shark tagging trip, Harvey said, "This relationship with NSU is really blossoming," and thanked President George L. Hanbury II, Chancellor Ray Ferrero Jr., and Dean Richard Dodge. He also encouraged students to pursue studies at NSU and make their parents proud. Sent to this country by boat as a young boy, Medina spoke about the "incredible society," in which we live. His family left long line, seven generations of Cubans to come to a country where they did not speak the language. "This country welcomed us, helped educate us, opened doors and helped make us what we are today. I am very proud to be an American," said Medina.
H. Wayne Huizenga School of Business and Entrepreneurship Alum to Present at International Conference

Emmanuel Trenche, M.B.A.

Emmanuel Trenche, a 2011 graduate of NSU's Huizenga Business School, has been selected to speak at the Strategic and Competitive Intelligence Professionals' (SCIP) International Conference in Orlando, FL, on May 5 - 9.

Trenche is currently vice president of marketing and communications for clearCi, a competitive intelligence software company that helps businesses develop the insight needed to compete in a global and digital environment.
H. Wayne Huizenga School of Business and Entrepreneurship Students Reap Rewards Through Internship

Brandon Marshall, Chicago Bears player; intern Paiton Meurer; Elton Patterson, Blue Sol Yoga owner

Huizenga Business School students continue to reap rewards from experiences gained during internships. During Winter-Term 2014, students worked in a wide variety of organizations.

Undergraduate–Marketing: Paiton Meurer, Blue Sol Yoga; David Patino, ShowRodeo; Melanie Alvarez Meneses, Yake Solar Power Corp.; Accounting/Finance: Enshante Starks, Adrienne Arsht Center for the Performing Arts; Kristel Tiwari, Ars Flores Symphony Orchestra.

Master's students: Timica Anderson, Legair Financial Group, LLC; Hans Fredrik Jonviken, Murray & Associates LLC; Vijay Kundnani, NSU OIT Strategic Support Services; Claudia Martinez, EPI Trading; Marie-Grace Michel, Ultimate Software; Karan Minnis, DVG Builders, Inc.; Amit Mahbubani, TracFone Wireless; Pegah Noban, Ars Flores Symphony Orchestra; Coleen Richardson, Lord Breakspeare Callaghan, LLC.

Paiton Meurer managed social media, among other responsibilities, for a yoga studio, Blue Sol Yoga located in Weston. "My work proved the effectiveness of internet marketing," said Meurer. "My biggest accomplishment was the 4th Anniversary Party: we exceeded our goal of two thousand attendees and had a lively, festive party. NFL Chicago Bears player Brandon Marshall was the special guest of Blue Sol owner, former NFL player, author, and entrepreneur Elton Patterson".

David Patino has already received several offers for positions due to the expertise he has gained as the first intern for a start-up company. Watch for his video with the ShowRodeo "Skinny" segments.

Companies consistently report on the value to their companies by Huizenga Business School interns. Laura Talbert of TracFone Wireless commented, "We provided Amit with tasks and opportunities that most entry level employees here don't get. I hope he learned as much as we did!"

Attention undergraduates–it isn't too late to get course credit for summer internship positions. Contact your academic advisor or cwithrow@nova.edu for details.
The H. Wayne Huizenga School of Business and Entrepreneurship Honors Dean's List Recipients

The Huizenga School of Business recently hosted a luncheon and awards ceremony to celebrate the achievements of 184 students who earned a place on the Dean's List for the fall 2013 semester. The outstanding students were joined in celebration by faculty, friends and family, and members of university leadership.

To earn Dean's List recognition, undergraduate students must be enrolled full time (12 or more credits) at NSU, earn at least a 3.5 GPA for the semester, and receive no incomplete grades.
Professor of Economics discusses changes to the minimum wage
Florence Neymotin, Ph.D., Assistant Professor of Economics appeared on CBS 4 News providing commentary on President Obama's call to increase the minimum wage to $10. Read the article
Marketing Professors interviewed on teaching social media.
Marketing Professors Dr. Jim Barry and Dr. John Gironda appeared on social media expert Neal Schaffer's podcast to discuss how social media is taught in the classroom.
Associate Professor of Finance and Economics Presents 2014 Economic Forecast.
Dr. Albert Williams, Associate Professor of Finance and Economics, gave a presentation to "Hot Topics", a seminar series created by seniors in Weston, Florida. He discussed economic forecasts for 2014 from three perspectives - global, U.S., and Florida. His presentation has been shared with 200 seniors in that group.

View 2014 Economic Forecast
Huizenga School Professor Interviewed on Holiday Shopping

In a recent interview with CBS4, Maria Petrescu, Ph.D, assistant professor in Nova Southeastern University's H. Wayne Huizenga School of Business and Entrepreneurship explained that shoppers who missed out on Thanksgiving holiday deals will still be able to take advantage of more deals during the rest of the holiday season. "You should be able to find many many discounts from now on even before Christmas," said Petrescu.

The full interview can be viewed here: A Little Work, A Little Shopping - It's Cyber Monday
Huizenga School Professor Discusses the Recent Government Shutdown
Jack Pinkowski, Ph.D., associate professor and Chair of Public Administration at the H. Wayne Huizenga School of Business & Entrepreneurship published an opinion piece in the Huffington Post and the Sun Sentinel in which he discusses our system of checks and balances and puts the recent government shutdown into perspective.

"I don't believe that the Founding Fathers ever imagined that statesman would behave in such an unstatesmanlike manner as to risk default on government debt, penalizing federal workers, or those in the military, with job suspensions and related pay suspensions" said Pinkowski.

The entire article can be accessed at: Jack Pinkowski: Putting government shutdown in perspective and Checks and Balances: The Government Shutdown in Perspective.
Huizenga School Celebrates Appointment of Dean
The H. Wayne Huizenga School of Business and Entrepreneurship held a reception to celebrate the appointment of J. Preston Jones, D.B.A., as dean of the business school. The reception followed the annual Board of Governors and Entrepreneurs Council meeting in the Huizenga Sales Institute's Executive Conference Center. Faculty members joined Board and Council members to congratulate the dean.
Dean Emeritus and Professor, Randolph Pohlman, Ph.D., welcomed guests with opening remarks, "Dr. Jones was at my side for the 14 years that I served as dean. Early on he was a recruiter and was instrumental in creating marketing and recruiting strategies. He served as Associate Dean for Academic Affairs, recruiting and supervising all faculty. As Executive Associate Dean, he played a significant role in the decision making process and played an important part in the school's success. I am looking forward to Dr. Jones propelling the Huizenga Business School to great heights."
Board of Governors Chairman, Paul Sallarulo added, "Dr. Jones has served the Huizenga Business School for many years and with the appointment of dean, he undertakes a position of recognition and responsibility. It is my honor and certainly the Board of Governors' to represent the business school under his vision and leadership."
The reception was hosted by the Entrepreneurs' Council. Yolanda Harris, Council Chair said, "The Council looks forward to working with Dr. Jones to create value for students and the Huizenga Business School family."
Huizenga School Undergrads Complete Internships
Marketing students L to R: Samantha High, Nathalie Hernandez, Maryori Perez. Standing: Art Weinstein, Ph.D., marketing chair, Carla Withrow, Internship Course Administrator.
According to a recent article in the Chronicle of Higher Education, Internships are the #1 experience that employers are looking for in their entry level candidates. NSU students are actualizing this on campus, and in corporations throughout South Florida.
Are you or your students interested in finding an internship? NSU's Office of Career Development can assist with internship preparation (resume, cover letter, and interviewing skills) and internship search strategies. Students can make an appointment at (954) 262-7201. Also, internships that are posted exclusively to NSU can be found on CAREERShark at www.nova.edu/careershark/.
Below are several internship success stories from students in the H. Wayne Huizenga School of Business and Entrepreneurship:
Samantha High, NSU Athletics
"Prior to starting this internship, I had absolutely no hands-on experience with marketing, knowing only the information I learned from my courses. The first day I was a bit nervous because I had never had a job with this level of responsibility. I was quickly introduced to the fast pace of the office and how crucial it is to be on top of all aspects for every NSU Varsity sporting event scheduled for the upcoming week. I wanted to find a profession that gives me butterflies in my stomach the same as I get when I play volleyball, and it is clear to me that sports marketing is it."
Nathalie Hernandez, Bloomingdale's
"I assisted in the creation of many different events. This process began by pitching ideas to brand names for help with the funding. Then we found a charity partner to help bring more customers to the event. Next came the logistics for the event, including finding entertainment and renting the necessary furniture or staging. I believe interning for Bloomingdale's will help me post-graduation because of all the connections I have made in the fashion industry and the great feedback I have received from my mentors. I must admit that I am excited for what the future holds."
Maryori Perez, Starboard Cruise Services
"What I liked most about being in Merchandising & Planning is that I could apply both finance and marketing. I was also able to expand my cultural awareness of doing business in Asia."
Also, for Winter Term 2013, Nicolas Rodriguez and Alixandria Tucci held finance internships in Merrill Lynch offices.
For more information go to www.nova.edu/career/ or www.nova.edu/business/.
McKinley Insurance Donates $50,000 to Huizenga Business School

A new scholarship is now available for undergraduate minority students studying business at Nova Southeastern University (NSU), thanks to a $50,000 donation from McKinley Insurance Services, announced the firm's President and CEO Ralph Campbell. The Jim McKinley Endowed Scholarship Fund, named in memory of the company's founder who passed away last year, will generate annual scholarships to support full-time students of the H. Wayne Huizenga School of Business Entrepreneurship (HSBE) who have grade point averages of at least 2.5.

"Jim McKinley always supported students wanting to pursue higher education," explained Campbell. "This scholarship preserves his legacy of helping others and helps students who may not otherwise have an opportunity to attend such a prestigious university as NSU.

"Many minority students are the first in their families to attend college, so hopefully this scholarship will help break that cycle and help prepare the business leaders of the future." The McKinley Fund is one of the first NSU scholarships for minority students.

"We salute Ralph Campbell and his vision for the future of education," said Alan Levan, who chairs the school's Ambassador Board, a select group of business leaders who support the school with their financial gifts and experience. "Scholarships like this insure that our school graduates a more diverse and prepared group of business professionals."
Students Compete in National Collegiate Sales Competition

The H. Wayne Huizenga School of Business and Entrepreneurship's Huizenga Sales Institute (HSI) team recently competed at the 15th Annual National Collegiate Sales Competition (known globally as NCSC), held in Kennesaw, Ga., from March 1 to 4. This marks the first year the HSI team - consisting of Jeremy Mathis and Michele Retzlaff, both seniors pursuing a sales minor - competed in this competition.

"This was our first year competing in any sales arena. The NCSC was also the first exposure of our Sales Program to other non-NSU academic colleagues," said Hale, assistant professor of marketing, who attended the NCSC as Coach. "We demonstrated the strength of our students' talent, and both Jeremy and Michele represented themselves and NSU extremely well."

Hale has already been contacted by a number of NCSC sponsors who want to visit the Huizenga Sales Institute to recruit students as a result of the competition. When asked about future competitions, Hale added: "We have secured a place at NCSC next year and it is our intention to return."

Michele Retzlaff & Jeremy Mathis
Nine M.B.A. Students Win Scholarships from Target Corporation

The Target Corporation recently sponsored a case study competition for students enrolled in H. Wayne Huizenga School of Business and Entrepreneurship's Marketing 5017 course (Delivering Superior Customer Value) with Professor Art Weinstein, Ph.D. Seven teams and 30 students participated in the ten-week project culminating in a 15 minute presentation to Target executives.

The winning team - awarded a $600 scholarship - included Sara Chen, Guilianna Oblitas-Acosta, Georgia Wilmot-Jones, and Yana Young Sang. Their presentation was entitled "Changing Demographics - Focus on Baby Boomers." The second place team consisted of Melissa Brown, Carlos Castillo, Jennifer Dasilva, William Fargiano, and Craig Williams. They earned a $400 award for their presentation "Surfing the Digital Wave." MKT 5017 is an important course in the Huizenga Business School's new M.B.A. program in Marketing.